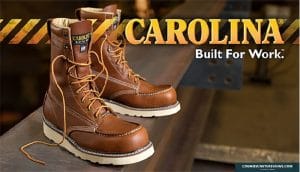 Rely on Carolina to give you the quality, comfort, and durability you need to do your best. When it comes to making high-quality work boots, they are second to none. Check out the Carolina Boots Review to find the perfect match for you.
In a Hurry? Check Our Top Picks of Carolina Boots
When it comes to Carolina, trust me when I say this, they know how to make great work boots. Not just work boots, they even make some of the best hiking boots on the market.
Take the CA4525 for example. This Men's Composite Toe EH Hiking Shoes are not only comfortable, but they are durable too. I'll be focusing more on their working boots collection.
Because a working man counts on his boots to get him through the day. Guys take on tough jobs in dangerous environments and extreme locations. And, Carolina work boots are made to handle those tough jobs. All kinds of jobs.
Hard work, dangerous work, or standing around all day work, you name it. And, the people who make these boots understand what type of boots you need for your job.
Haul, build, climb, dig or fix the unfixable, and long hours of lifting, standing, bending, and kneeling, boots are the most important concern for them. Most of these high-performance boots from Carolina are made in the USA.
Top 7 Best Carolina Boots Review
1. Waterproof Insulated CA4821 Men's Carolina Logger Boot
Let's start off with the most popular edition in the franchise, the Carolina logger boot for Men CA4821. It is available in black and copper color and fits true to size. It's a logger's ultimate companion. This boot was designed to give you maximum protection. What more can I say, it's a tough, plain old classic logger boot for the loggers.
These boots are perfect for loggers. Waterproof Insulated logger boots keep your foot dry with great support, and traction. They are also waterproof. They are also very comfortable inside. 600 grams Thinsulate insulation to keep your foot warm on rainy days or cold weather. You can easily wear them 12-18+ hours a day. High arches for those of you that need a lot of support.
Fitting is very true to size. If you are used to Carolina Boots, you will know what I'm talking about. Because this is a waterproof boot, it's lined on the inside. It has no insulation properties. The sole on this is sewed and not glued. You can't see it from underneath the boot but that sole is held on tight with several small screws.
Finally, crazy horse leather uppers. This leather has a good feel to it. Once you break in this pair, the leather takes a unique shape to your foot giving each pair its own unique look. It's a bit snug at first, but it will wear in comfortably after some time. I've made a complete review of this boot where I've talked about all of its features.
---
2. Carolina Boots Men's Waterproof Composite Toe Hiking Boots CA5520
These Carolina CA5520 boots are very comfortable. It's probably one of the most comfortable work boots that Carolina has right now. They are well padded with nice lining inside that could be called light insulated. They have ASTM F2413-11 certification stamped on the tongue which means this boot sets minimum standards for puncture resistant soles. They also have electrical shock protection.
These boots are made for construction workers. If you stand on concrete for a long time, don't waste any time looking for something else. It's one of the most comfortable work boots Carolina makes and you can't go wrong with these. This pair is built to battle intense terrain and give your feet an easy ride through the 10 – 12-hour workday without the added stress of sore, tired feet.
The removable AG7 polyurethane footbed has moisture-wicking properties that keep the interior dry and soften the stress of your work floor. It also keeps sweat from soaking your feet and keeping the boot ultra-comfy inside. Instead of a steel shank, this one has a non-metallic shank to support your arches. The EVA midsole absorbs all the shock while the special pillow cushion gives you feet padding for a toe to heel.
The rubber sole on this boot is a non-marking, oil and slip-resistant sole the keeps you steady and complies with your work boot standards. This one has cement construction which means no stitching. Everything is glued on which also makes this boot very flexible and lightweight.
---
3. Carolina Waterproof 800 Gram Boot
The Carolina CA9028 is made for colder environments. This is really nice loaded up boot from Carolina with 800-gram insulation. These are heavy-duty work boots that feature Carolina's exclusive waterproof lining system. This 8-inch grizzly style boot uses cigar leather upper that gives a nice look. If you are working in cold environments and looking for something to keep your feet warm, these are boots for you.
You can wear these boots in 0-10C (32-50F) rain/snow/slush/muddy weather all day every day. These are big, heavy-duty work boots so expect a break-in period of one week. 800 grams of insulation is enough to keep your feet warm in the winter but it is too much for anything above 10C (50F). These are just as rugged and comfortable as any other high-end boots out there. Just don't wear in warm environments.
The leather gives a nice rich brown shade but that's not the only reason to love them. The material feels soft and stretchy and that's probably why the break-in period so little considering this is a heavy and thick boot. The leather is also tough enough to take on your workday. Taibrelle lining inside this boot makes it breathable and controls moisture.
This lining also keeps your skin cooler by providing ventilating air flow. Impact-absorbent AG7 polyurethane footbed resists shock to keep feet more comfortable. It's also removable and cleanable. Underneath the boot, you have the strong linesman shank that gives you the support you need throughout the day. These are resistant to electrical hazards and the rubber lug outsole gives you stability and traction during your unpredictable work conditions.
---
4. Carolina Mens 8″ Domestic Moc Toe Wedge Work Boot
This Domestic moc toe wedge sole work boot is made in the USA. It has full-grain leather upper which is made from tobacco stampede leather. It's more of a multipurpose work boot. It does so much more than just cover your feet. It has a nice blend of comfort and support as well as ample protection. This boot will do great for industrial workers, construction workers, farmworkers,s and similar other jobs that require a lot of movement.
The Stampede is a full-grain, fully drum-dyed leather. The dying process of this leather requires immersing it in the dye and tumbling it in a rotating drum. This ensures maximum penetration of the dye throughout the hide. This process gives the leather a nice rich color and results in a pair of durable USA-made boots. It also makes the leather abrasion resistant and tough wearing.
This boot uses welt construction. Unlike cement construction, they are no glued parts on this one. The sole, upper, and all that use stitches to bond together in one strong unit. Noting will come undone and will stay in the place where it was supposed to stay. It also means that this boot is completely re-craftable. Once you wear out the sole, you can replace and repair as needed.
This is an EH boot which means this boot will protect you from dangerous electrical shock. This also makes the boot a good choice for applications such as roofing where a steel shank boot might be unsafe. Let's not forget the comfort features. AG7 Polyurethane footbed, moisture control, enhanced arch support is built right it.
---
Why Carolina Work Boots?
A lot of companies out there focus on one design or craft boots for a certain job. Not Carolina, they have been making a wide range of boots for a wide range of purposes. They make sure that each person who uses their boots is completely as satisfied as possible.
Durability
If you are trying to find a new pair of boots that will hopefully last a lifetime, Carolina got you covered. Their boots can really take a beating and can maintain a pretty good shape. Most of the boots are made using Goodyear Welt construction. Top-notch stitching overall.
Now, when talking about durability, you have to keep in mind that the longevity of any boot will depend on how you treat them.
How Long Do Carolina Boots Last?
The best part of Carolina boots is that almost all of them are easily re-soleable. A typical Carolina work boot should last about a year and a half depending on how you treat them. Once the sole wears out, you can take them to your local cobbler for repair.
How you care about your boots plays a huge role in the boot's longevity. Honestly, some guys are just way too rough on their boots and it's impossible to keep the boots in shape for a year.
Craftsmanship
I don't think I need to mention the quality of their craftsmanship. Take the Carolina 8 Inch Logger Boots for example. It comes equipped with everything you need for a hard day's work.
Solid build quality, premium leather, hardware, and all that. This lace-to-toe logger is still one of their best-selling logger boots on the market.
Type Of Toes
Toes generally determine the type of boot that it's going to be. For example, steel toes are for hard workers who need safety features more than comfort. You can also choose to go with composite toes, aluminum toes, and carbon fiber toes.
For maximum safety, steel toe is the best as it will protect your feet in tough environments. For a lightweight option, aluminum toes are great. If you need ample protection without losing comfort, you can choose to go with composite toes.
Carolina – Advanced Features
Carolina Boots are packed with some of the best and most innovative technologies. Here is a shortlist of them.
D3O®
Overtime Comfort System®
WorkFlex Outsole
Opanka Construction
Carolina Contourical Internal MET
Pillow Cushion
Pillow Cushion 2
Vibram®
Thinsulate™ Insulation
Cambrelle
Dri-Lex®
Poron Performance Cushioning
ORTHOLITE™ Deluxe
ORTHOLITE™
AG7 Footbed
Maxum Lite
Aerotrek™
UL Classified
Pretty long list huh? Well, what did you expect? I won't bore you with giving all the details here.
Conclusion
So, that all for now. Hope you find what you came for. I know there are a lot of other great boot manufacturers out there and rest assured, I will cover them all.
I know that's a lot of work but that's what I love to do and will be continuing to do so. If you got any questions regarding Carolina Boots Review, feel free to shoot me an email via the content form below or simply leave a comment below and I will get back to you guys.