In this article, I am going to be reviewing the classic Carolina 902 engineering boot. It's American made. This rugged, old-fashioned, pull-on engineer boot is featured in classic black.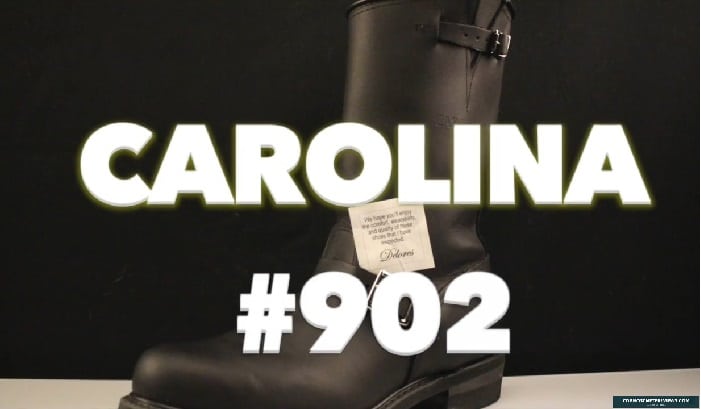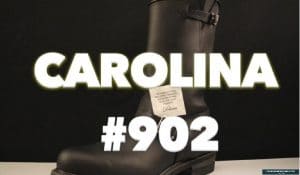 The Carolina 902 has been around for a really long time, and there's a reason why. Because it's a great boot, it's made extremely well. The craftsmanship of this American made boot really shines through in each in every pair. Although almost all the boots of the Carolina brand are good.
Buckle strap on top, buckle strap on the instep, and the rugged Nitrene sole. Now that's what I call a classic biker's boot. This boot kind of makes you want to go back to the '50s.
Carolina Engineer Boots Reviews
Features
Black Full Grain Leather Upper
Cambrelle® Lined Vamp
Poron® Performance Cushioning Insole
Steel Shank
Welt Construction
Nitrene Outsole
MADE IN THE USA
Price
I normally don't talk about prices because it's just not my thing. But with this one, I've to say, Carolina really made a good bargain here. They even priced it lower than other competitors out there.
Chippewa, Red Wing, and even Frye make these kinds of boots, but the 902 still managed to keep the price down without sacrificing quality.
Even though it's priced under 200 bucks, these boots are superior quality. The only problem with this kind of boot is probably the fitting, which I'll be discussing more at the end of this article.
Nitrene Outsole
Carolina, they used the nitro oil resistant sole on this 12″ Engineer Boot. This is one of their longest wearing soles. Beautiful heel in there, a defined heel and it's a classic heel. It's not a square heel; it's got a little arc in there.
So, you're getting a little bit more surface on the heel section. This boot is recraft-able, resole-able however you want to say it; you can slice that thing off and put a new one on.
And this is the kind of where you might just do that. Even though you're going to break down all the support inside there, this is still going to be a riding boot.
So, once the leather is really comfortable, you're probably not going to want to let this go. You'll love this engineer boots: great quality and a great price for this style of rider's boot.
Leather
Speaking of leather, I really dig the black oil finished leather that Carolina uses on this boot. It's a tough and thick piece of leather that feels really soft and starts to form to your foot from day one.
The leather comes pre-oiled but make sure to add mink oil from time to time. The first day you wear them, this leather will start to form to your foot and creates a shape that's unique to you only.
Size & Fit
Now fitting these boots is probably the most difficult part and it truly is difficult because they're slip-on engineer boot. The shaft measures approximately 12″ from the arch.
If you don't have the type of foot, if you don't come from a slip-on world, if you didn't grow up wearing cowboy boots and rain boots and things like that where you're sliding your foot inside a boot, this could be a hard thing.
If you've worn gym shoes and regular lace work boots your whole life, this is going to be difficult. So, what I can say about buying a pair of these, is that you have to go somewhere where you can try them on.
And you're going to have to try on a few pairs. And don't just try on your size but try on a size below, a half size below and a full size above.
Move around, feel it out. Make sure you get the right fitting pair.
Inside This Boot
Inside this boot, there are no cushions. There're no big deep density urethane cushions inside. It's just Carolina's classic cushion in there which is a little something in the heel and a little something in the foot.
What's going to happen is that you're going to break down the footbed inside there, and it's going to form to the ball of your foot, to your toes, to your heel, and to your arch.
And that's what's going to make this boot really comfortable.
Keep Adding Mink Oil
These boots are not waterproof, and I guess you know that right. So, keep adding mink oil to this boot. As a personal suggestion from me to you, the more mink oil you put into this boot, the greasier it looks, the better it's going to perform. The more of an everyday boot it will become for you.
This engineer boot is made in the USA, so you know you'll be getting some quality construction with this one.
Final Thoughts
So, that's the classic Carolina engineer boot style number 902. As you can tell, it's beautiful. If you ever wore these, please leave a comment below, let other guys know what to expect when sizing these things up.
If they're going to order them online, what they should be looking for, how they should be comparing them against what they wear now to what this is.
If you should have any questions about this boot or any of the boots in my engineering boot series, please send me an email, pick my brain see what I got to say about your next purchase of the pair of boots.
That's all I can say for the Carolina 902 Engineer Boot Review. Thanks a lot for reading. Until the next time.