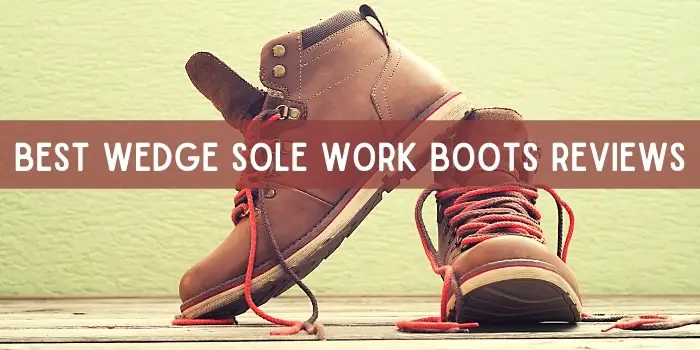 For work, there is no doubt that you will need sturdy footwear. However, it needs to be appropriate for the environment, such as on a factory floor or construction site.
For an indoor environment, you need boots that provide adequate support and toughness and are constructed more comfortably than traditional lug soled work boots.
In a Rush? Check Our Top 3 Picks Of Best Rated Wedge Sole Work Boots
[amazon box="B003O9UKBI, B01L2UH1HQ, B074KQW74L" grid="3″ price="none"]
In short, you will need the best wedge sole work boots. Wedge work boots are the perfect choice for factory work, where the feet need to be more comfortable.
Flat wedge soles help distribute the stress evenly across the bottom of the foot, which is why wedge soles are comfortable.
The wedge sole of a work boot is an excellent option for walking on concrete, plywood, carpet, or packed dirt. It is also a great way to add some stability and comfort to your daily work routine.
Wedge Sole Boots Pros And Cons
In this article, we have reviewed some of the best wedge boots for work. But before that, let's have a look at some of the advantages of wedge sole boots.
Pros
The build quality and style of a wedge sole work boot are more appropriate for an indoor work environment.
There are plenty of steel-toe wedge sole work boots that offer ample safety and protection.
Wedge work boots have outstanding waterproofing and insulation features.
The wedge design of a work boot reduces the stress on the feet by evenly distributing the body weight.
Regardless of how slippery the surface is, wedge work boots give almost perfect traction on most surfaces.
Cons
They are not good for use on uneven terrains.
The soles won't last long if you wear them on harsh terrains.
You can't go hiking or trekking with these boots.
9 Best Wedge Work Boots Reviews
Here are some of the best wedge sole boots that will reduce some of the stress on your feet so you can have a more comfortable workday
1. Thorogood Men's Wedge Sole Work Boots – Men's American Heritage 6″ Wedge Non-Safety Toe Boot
[amazon fields="B003O9UKBI" value="thumb" image_size="large" image_align="center" image_alt="Thorogood Wedge Sole Work Boots"]
Kicking things off with the classic American Heritage 6-inch Moc Toe boots from Thorogood. These boots feature Thorogood's exclusive MAXwear wedge sole. In addition to that, you are also getting a boot the features Goodyear storm welt construction.
This construction is one of the most tried and true construction methods in the footwear industry. Because of this, you can easily resole these boots if the soles wear out. To give you that extra durability on the job site; these work boots are triple stitched.
These boots are engineered for comfort. Inside them, you are getting Poron comfort cushion insole as well as the Ultimate Shock Absorption footbed, which is removable. The oil-tanned upper uses full-grain leather that will look even better as time passes.
Made in the USA by union workers, these iconic boots boast a great deal of history. The leather work boots is stylish and breathable, allowing you to wear them outside of work. They are made comfortable and will keep your feet comfortable throughout the day.
Highlighted Features
MAXWear wedge sole.
Highly slip-resistant.
It has a removable footbed.
It comes with a comfortable cushion insole.
---
2. Carhartt Men's 6 Inch Work Boot – Waterproof Wedge Sole Work Boots
[amazon fields="B01L2UH1HQ" value="thumb" image_size="large" image_align="center" image_alt="Carhartt Men's 6 Inch Waterproof Wedge Soft Toe Work Boot"]
Next up for this guide, we have another 6-inch wedge sole work boot, and this time it is from Carhartt. If you love Carhartt products, these boots won't disappoint you. These soft toe boots are tough as nails. The best part is that you can wear them everywhere.
These wedge-style work boots have an upper that is made from high-grade oil-tanned leather. The dual-density rubber outsole is not only durable but also provides good traction. This wedge sole allows you to get full ground contact so that you can feel every footstep.
You are also getting the durability of Goodyear welt construction, and because of that, you can easily resole your wedge sole in the future if the need comes. Now, one thing I really liked about these boots is the waterproofing feature.
Even in the winter and when the snow melts, you won't feel any cold, and no water will get inside your boot. The Storm Defender design makes these boots completely waterproof. Furthermore, it also makes the boots breathable while keeping your feet dry.
Highlighted Features
Breathable and waterproof wedge boots.
Features Goodyear welt construction.
Dual-density Carhartt rubber outsole.
High-quality oil-tanned leather upper.
---
3. Timberland Wedge Soled Work Boots – Soft Toe Waterproof Industrial Boot
[amazon fields="B074KQW74L" value="thumb" image_size="large" image_align="center" image_alt="Timberland PRO mens Gridworks 6 Inch Soft Toe Waterproof"]
These soft toe industrial wedge sole work boots from Timberland are comfortable out of the box. This means you won't have to worry about any break-in period. If you are on your feet all day and looking for the most comfortable wedge work boots, these are the ones to buy.
The dual density footbeds and EVA midsoles in these premium work boots are designed to cushion your feet when you stand all day on concrete. The outsoles of these wedge boots are abrasion-resistant, slip-resistant, and oil-resistant. These are the best wedge sole slip on work boots.
You can depend on them to last for many years, thanks to the Goodyear Welt construction. Waterproof breathable leather uppers and antimicrobial mesh lining, as well as shock-absorbing technology, make these boots a reliable choice for all-day comfort.
A great feature of these boots is the thermoplastic urethane (TPU) outsole, which makes it one of the best men's wedge sole work boots on the market. This work boot is specially designed for traction on icy surfaces, making it an ideal choice for cold-weather outdoor work.
Highlighted Features
No break-in needed.
Fit true to size.
Completely waterproof.
Quality craftsmanship.
---
4. Red Wing Men's Classic Moc 6″ Wedge Sole Work Boots
[amazon fields="B001KS6370″ value="thumb" image_size="large" image_align="center" image_alt="Red Wing Heritage Men's Classic Moc 6″ Boot"]
This is a 6-inch classic Moc-toe boot from Redwing that is made to complement a casual lifestyle. The foundation for this durable boot is the crepe wedge. However, this is one handsome-looking pair of wedge sole work boots out there.
The upper is perspiration and stain resistant and made using 100% genuine Briar Oil Slick leather. The added strength and durability are a result of the Norwegian welt construction. A thick treaded outsole completes the rugged appearance of this boot.
My favorite feature of the Red Wing Heritage work boots is that they have traction tred cushion outsoles. These outsoles provide the necessary grip on slippery surfaces to prevent slips and injuries. Furthermore, these are USA-made boots.
These boots are not only made in the United States, but also from steers raised in the USA. This brand of boots is known for its hand-made process, which is the reason it is one of the best boot brands out there.
Highlighted Features
Copper Rough & Tough Leather.
Traction Tred Cushion Crepe Wedge.
USA made boots.
Perspiration and stain-resistant.
---
5. Georgia – Men's 10″ Wedge Wellington – Best Wedge Sole Pull On Work Boots
[amazon fields="B0012FFUDO" value="thumb" image_size="large" image_align="center" image_alt="Georgia Boot Men's 10″ Wedge Wellington Work Boot"]
The Wedge Work Boot from Georgia is a great quality work boot at a great price. These shoes are distinguished by their SPR leather uppers and wedge soles. Comfortable and resistant to chemical and electrical hazards, it provides complete protection against any harsh environment.
This leather is resistant to caustic alkalis, sulfuric acids, calcium hydroxides, potassium phosphates, and others. Its polyurethane wedge sole features a specially grooved design that makes it oil and slip-resistant.
Your feet will be well supported and stable with a comfortable insole and supportive shank. These steel toe wedge boots are equipped with electrical hazard protection. These Georgia wedges are among the best on the market because of their commitment to safety.
This pair is ideal for farm and ranch work or jobs that require you to be near hazardous chemicals. The outsole offers great flexibility and cushioning. If the outsole becomes worn down, you can replace it with thanks to its Goodyear welt construction.
Highlighted Features
Poly Wedge Ultra outsole.
SPR full-grain leather upper.
Supportive steel shank.
Cushion insole and soft lining.
---
6. Golden Fox Work Boots 6″ Men's Moc Toe Insulated Wedge Sole Work Boots
[amazon fields="B01I473ABQ" value="thumb" image_size="large" image_align="center" image_alt="Golden Fox Work Boots 6″ Men's Moc Toe"]
The 6-inch Moc toe wedge pro boot from Golden Fox uses a soft and supple full-grain premium leather upper that requires less time to break in. This hide is durable and will protect your boots against elemental damage in the worksite. It's also considerably water repellent.
This full grain leather has tight grain patterns that give the boot its water repellent properties. Although it's a boot made for construction workers, this one is surprisingly lightweight. It's also very comfortable to wear because of the removable shock-absorbing cushion insole.
This wedge sole boot is good for your back and feet. If you have long workdays ahead, you can rely on these boots to remain comfortable. The Goodyear Welt construction makes this pair highly durably and longer-lasting. It also gives you the resoleable option if you needed to change the outsole.
Speaking of the outsole, it's a rubber material that not only gives you superior traction and support but also resists chemical erosion and oil. You can comfortably and safely work on hard and rocky surfaces with this pair on you. It's also insulated and keeps your feet dry during hot workdays.
Highlighted Features
Full-grain oil-tanned leather uppers.
The best Moc toe wedge work boots for men.
Mesh lignin for insulation.
Moisture-wicking properties.
---
7. Carhartt Men's 6 Inch Waterproof – Best Wedge Sole Steel Toe Work Boots
[amazon fields="B079Y7H9JJ" value="thumb" image_size="large" image_align="center" image_alt="Carhartt Men's 6 Inch Waterproof Wedge Steel Toe Work Boot"]
Following is a work boot from Carhartt with a steel toe and wedge sole. Its uppers are made of premium oil-tanned leather, and its outsole is made of two densities of Carhartt rubber. In addition, it has Goodyear welt construction for durability.
You can wear these shoes in any wet surface or humid condition, and they will keep your feet dry. You'll be kept dry while promoting circulation and airflow with a waterproof, breathable membrane. It also features FastDry technology lining.
This lining allows you to work in the heat of summer without sweating excessively since it wicks away sweat. Inside, you will find a comfortable cushion insole. The Carhartt PU with Foam cushion insole reduces foot fatigue and provides comfortable support.
Let's talk about the brand for a moment. Carhartt has been manufacturing premium workwear since 1889. You can feel the materials and see the performance of their products. The manufacturer has a lot of experience making boots.
Highlighted Features
Carhartt rubber outsole.
Goodyear welt construction.
Carhartt PU Strobel pad with foam cushion.
FastDry technology lining.
---
8. ROCKROOSTER Work Boots for Men
[amazon fields="B07FJWX7W8″ value="thumb" image_size="large" image_align="center" image_alt="ROCKROOSTER Work Boots"]
These work boots From ROCKROOSTER are both stylish and comfortable. Despite their durability, they are comfortable enough to wear every day. Designed to be an essential footwear staple, this pair of stompers can be worn as workwear shoes or casual wear. They also boast a lot of features.
Work in comfort and style with this lightweight work boot for men that comes with a dual-density footbed that absorbs shocks. The boots will help relieve fatigue by massaging your feet and encouraging blood flow. A boot like this will make your work life a lot simpler.
This eliminates leg and foot fatigue and discomfort. Additionally, these breathable work boots feature COOLMAX fiber technology, which transports moisture away from your feet, keeping them cool and dry.
Goodyear welt construction ensures these boots will hold up to daily abuse. Your feet will always remain dry while working with these lace-up work boots made of premium thick leather. If you are on a tight budget, these are the best wedge work boots you can find on the market.
Highlighted Features
Highly water-resistant.
Electrical Hazard rated for safety.
Composite toe for protection.
Slip-resistant outsole.
---
9. Wolverine Wedge Sole Work Boots – Men's Loader 6″ Soft Toe Wedge Work Boot
[amazon fields="B01N4FHZ4T" value="thumb" image_size="large" image_align="center" image_alt="Wolverine Men's Loader 6″ Soft Toe Wedge Work Boot"]
This wedge sole boot from Wolverine is built to handle the longest days, the harshest conditions, and the toughest jobs. The lightweight construction of the Moc toe boots keeps feet stress-free and comfortable. The upper of these boots is also unlined, and they feature reinforcement that helps reduce fatigue.
This boot is almost custom fitted, thanks to the Goodyear welt construction. Also, the steel shank provides protection to the foot. Boots like these tend to last longer and need less time to break in. These are the go-to boots for home construction and tile work.
The upper is made from genuine full-grain leather and comes oil tanned from the factory. Even on the hottest days, your feet remain cool in the soft toe wedge work boot with an unlined padded collar. Inside you will find a Removable full-cushioned footbed.
This shoe has a PU wedge outsole that increases comfort and keeps dirt and debris at bay. Wolverine is an iconic American-made work boots brand renowned for its high-quality materials and timelessly designed products. With these comfortable work boots, you can be sure you'll be comfortable all day.
Highlighted Features
Fatigue-fighting reinforcement.
Unlined full-grain leather upper.
Padded collar for comfort.
PU wedge outsole.
---
Features To Look For Before Choosing A Wedge Soled Boots For Work
You will find that wedge work boots from different manufacturers have fewer features as compared to other types of work boots.
There is a good reason for that. Most wedge-sole boots are used indoors, such as in factories and warehouses, or outdoors, such as on inventory lots and loading docks.
The best wedge sole boots need to have the following features.
Slip Resistance
Boots with wedge soles should be highly slip-resistant. Wedge soles are characterized by their entire outsole sticking out from the shoe. Therefore, wedges should have non-slip soles.
Synthetic or rubber soles must provide sure footing, perfect grip the ground, and dispel moisture. Without a great deal of slip resistance, any wedge sole boot won't do its job.
Comfort
The most important feature of wedge work boots is comfort. Workers wearing wedge soles typically do not need protection from a metatarsal guard or warmth from an insulated boot. It's not common to find those features. If you want the most comfortable wedge work boots, you will have to look for the good cushioned footbed.
Support
The wedge sole will allow workers to work comfortably on hard surfaces like concrete with boots that will cushion their feet and support their arches. In addition to being lightweight, wedge work boots are often made from rubber. These features contribute to the comfort of the boot.
Safety Toes
Having metallic safety toes might be the best choice if you are working with heavy or falling objects (although they are a bit heavy). These toes are by far the safest choice.
Composite safety toes offer a bit lighter protection, and they do not conduct electricity, which makes them safer than steel safety toes if you're exposed to live wires and fear being electrocuted.
Frequently Asked Questions
1. Are Wedges Better than Heels?
Wedge soles specifically do not have a significant effect on shock absorption. The fit and construction of work boots and the overall design of the boot are what matters. A bad pair of traditional work boots with heels is not that different from a bad pair of wedges that do not fit.
2. Why Do Ironworkers Wear Wedge Boots?
Wedge boots have a design that prevents them from accumulating a lot of dirt on the sole. Ironworkers are able to perform their duties with ease due to the ease of movement. In addition to being oil and slip-resistant, wedge soles are lightweight.
One reason these wedge boots are commonly worn by ironworkers is that many of these boots come with various protective features.
3. Are Wedge Sole Boots More Comfortable?
Wedge work boots are designed in a way so that the pressure is evenly distributed throughout your feet, making it more comfortable. The contoured design of wedge work boots is also a plus since it reduces the chance of hitting concrete or other rough surfaces.
4. Are Wedge Work Boots Better for Your Back?
Yes. Additionally, they are ideal for individuals suffering from flat feet. In addition to providing a better fit, wedge work boots can effectively reduce flat feet, which can also improve your posture.
Wedge boot soles are longer and have a larger contact surface area, and run all the way through the boot, which is good for your back.
Final Words
Work boots with wedge soles are the most comfortable, safe, and well-fitting work footwear available. Because of what they offer, wedge sole work boots are the best choice.
In addition to being comfortable, the best wedge sole work boots also offer maximum protection against all kinds of injury, including toes, ankles, and even footbeds.