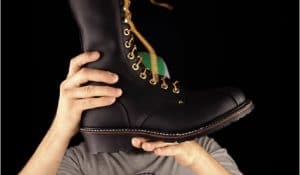 When you think about lineman boots, what comes to your mind? I bet it is tough leather, great sole, comfortable padding, and ankle protection.
But is that all? Nah, there is more to a lineman's work boot than these features.
In this article, I'm going to talk about what really matters when picking up a pair of the best lineman work boots.
When it comes to pole climbing boots, you need to have steel shank support and a great footbed. Otherwise, your boots will be extremely uncomfortable when climbing poles, and they will also wear out fast.
With the best lineman boots, you can climb with confidence and be up on the pole for hours without experiencing any foot pain.
In a Hurry? Check our Top Picks of Best Lineman Work Boots For Climbing Poles & Towers
Image
Title
La Sportiva Men's Makalu Hiking Shoe, Natural, 39
Carhartt Men's 8" Waterproof Composite Toe Leather Logger Boot CML8360, Crazy Horse Brown, 10 W US
Thorogood 804-4655 Men's American Heritage 6" Emperor Toe, MAXWear Wedge Composite Safety Toe Boot, Tobacco Oil-Tanned - 8 D(M) US
Ariat Men's Powerline 400G Waterproof 400G Composite Toe Work Boot
Lineman Extreme Non-insulated with Steel Safety Toe
Image
Title
La Sportiva Men's Makalu Hiking Shoe, Natural, 39
Image
Title
Carhartt Men's 8" Waterproof Composite Toe Leather Logger Boot CML8360, Crazy Horse Brown, 10 W US
Image
Title
Thorogood 804-4655 Men's American Heritage 6" Emperor Toe, MAXWear Wedge Composite Safety Toe Boot, Tobacco Oil-Tanned - 8 D(M) US
Image
Title
Ariat Men's Powerline 400G Waterproof 400G Composite Toe Work Boot
Image
Title
Lineman Extreme Non-insulated with Steel Safety Toe
Our 5 Best Lineman Boots Reviews
Here are some of the best lineman work boots that you can rely on to climb tall poles and steel structures.
1. La Sportiva Men's Makalu Mountaineering Boot
Kicking things off, we have a mountaineering boot from La Sportiva that sports a Dacromet-coated full steel shank. This is a boot that is made for heavy backpacking and climbing mountains. This means you can climb on poles and ladders with ease and confidence with these climbing boots.
When you are up on the tower and climbing poles r, there will be moments where your whole-body weight will be placed on the arch portion of your feet. This is where the shank support comes into play. In addition to its full steel shank, the Makulu boots also feature an SBR air cushion midsole and an 8mm Mtnflex insole.
You won't feel any pressure on the bottom of your foot. The upper uses a leather called the Idro-Perwanger. I don't know much about this one, but I can say that it is very tough. That is why it takes a bit of time to break in these boots properly. After that, the leather becomes very comfortable.
If you plan on getting this pair, make sure to order a half size larger than what you usually wear. These are solid mountaineering boots that require high-quality socks. These boots feature a rubber toe rand and a deeply lugged sole that is tough as nails for protection in all mountaineering applications.
Highlighted Features
Locking D-ring and rollerball hardware
Water-resistance linework boots
Idro-Perwanger leather upper
A dual-density SBR design sole and air cushion
2. Carhartt Men's 8″ Waterproof Composite Toe
Sale
Carhartt's climbing boots offer comfort, protection, durability, and high-quality material construction that provide unrivaled performance day after day. These boots can last in the toughest of conditions. This pair is designed to be completely waterproof because of the Storm Defender protection.
This makes the boot breathable and waterproof. Also, it will keep your feet dry. Now, the most important feature of this boot is perhaps the Carhartt heel stabilizer. This is a specialized heel that provides heel protection and ankle stability when you are climbing ladders and poles.
To make the boot comfortable, this pair comes with a Carhartt PU cushion comfort insole that reduces foot fatigue and provides comfortable support. For durability, it has a Carhartt Woodworks rubber outsole and uses Goodyear welt construction.
What makes this boot perfect for climbing is its reinforced steel shanks. In addition to that, this boot has ladder lock grips. The safety toe is non-metallic and EH rated. As for the outsole, it is oil, chemical, and slip-resistant. Although this boot is waterproof, it is not insulated.
Highlighted Features
Goodyear welt construction
Carhartt heel stabilizer
Storm Defender membrane
EH rated, composite safety toe
3. Thorogood Men's American Heritage 6″ Emperor Toe Boot
When it comes to all-day comfort, you can't beat the Poron comfort cushion insole. Thorogood's ultimate shock absorption footbed makes their American Heritage boots stand out from the rest. In addition to that, this boot features an Emperor toe, which is better than a regular composite toe.
This is a wedge sole boot that features MAXWear slip-resistant outsole. As for the support, it comes with a fiberglass shank. And to make this boot durable and longer lasting, this pair uses Goodyear welt construction. Overall, it has all the features that make it the best lineman work boot on the market.
To keep your feet safe, these safety toe boots feature improved composite toe caps. The heels of the shoes can withstand an application of 18000 volts RMS, and its soles are shock resistant. Toe caps made from composite materials provide the same protection as steel.
However, the toe caps do not contain metal, are corrosion-resistant, transmit less cold, and are lighter in weight. American Heritage safety toe boots are a great choice if you need a safety shoe with a really protective toe. As with all Thorogood shoes, these shoes are comfortable for long wear.
Highlighted Features
It doesn't require any break-in period
Extremely comfortable insole and footbed
Emperor toe caps for protection
MAXWear slip-resistant outsole
4. ARIAT Powerline 400g Waterproof Composite Toe Work Boot
Now, this is a boot that is specifically designed for loggers and lineman. If you do any sort of line work or climb a lot of poles or ladders, do your feet a favor and wear these work boots. The ARIAT Powerline is a composite toe work boot that provides amazing climbing stability.
This is possible thanks to the extra-wide shank that gives your feet the support needed for long workdays. This shank also makes the boot very comfortable. In addition, the full-grain leather upper is waterproof, and the boot itself is constructed in a way that makes the whole boot waterproof.
There is also 400g of Thinsulate insulation to protect your feet from getting numb during the winter season. The impermeable leather upper provides long-lasting protection from the environment. For protection, this boot features debris-releasing tread safety toe and outdoor traction lugs.
The Goodyear leather welt construction increases the overall durability of this lineman boot. Apart from that, the heel protector is molded that further increases the durability. Now, there are features to make this boot comfortable, like lightly padded collars, Shock-absorbing PU midsole, and Vibram outsole.
Highlighted Features
Shock-absorbing PU midsole inserts
Extra-wide shank for climbing stability
Especially designed for lineman
Waterproof full-grain leather
5. Kenetrek Lineman Extreme Non-Insulated Boots With Steel Safety Toe
Lineman Extreme Non-insulated with Steel Safety Toe
10" tall leather uppers made from 2.8 mm full grain leather feature double and triple stitching throughout for added durability
Featuring our new custom K-73 Outsole, which offers a deep, open tread pattern with 360 degrees of traction teeth and lugs and a solid, extremely durable one-piece vulcanized rubber sole
Forged boot hardware offers corrosion resistance and swivels instead of breaking
Durable Windtex waterproof membrane and no insulation keeps you dry and lets you focus on the job at hand
Steel safety toe meets ASTM impact and compression safety standards
Last but not least, we have the most comfortable lineman boots on the market. The Kenetrek Lineman Extreme is so comfortable; you won't even feel the steel toe on front. Although it is the most expensive boot on this list, it is also the best pole climbing boots money can buy.
If you are getting black marks and blisters on the back of your heel and want a solution for that, wear this pair of boots next time when you go to work. You can wear and start working with Kenetrek boots right out of the box. Their performance is on par with custom-built lineman work boots.
This boot has a one-piece vamp construction that is also seamless. Instead of hardware the breaks, it swivels. Now that you know why this pair made into our list let's talk about the specs for a moment. To keep your feet dry, it uses Windtex waterproof membrane that is breathable and durable.
It has corrosion-resistant hardware that's very long-lasting. For protection, the safety toe meets ASTM compression and impact standards. The custom K-73 outsole is made from a durable one-piece vulcanized rubber sole that has solid lugs, traction teeth deep, open tread pattern.
Highlighted Features
Full-grain leather and triple stitching construction
A custom K-73 Outsole
Windtex waterproof membrane
Corrosion resistance hardware
How To Pick the Best Lineman Boots For Climbing Poles & Towers
The job of the lineman is tough. They require specialized footwear for their job. One may think that a standard work boot is enough to do a lineman job, but their features are not satisfactory to stay safe.
The work environment of a lineman is unique. Most of their job is to climb poles and steel communication towers. These are the most hazardous job. So they need a good, tough work boot which is limited in the number that is best for this task.
To pick an ideal boot, the boot has to be waterproof, durable, and provide some protection against electrical hazards. Also, you have to pick the boots that provide protection from hooks and ropes. And for this, a steel plate is very satisfying.
When you look for this kind of boot, you must be careful about some features that must-have in these boots. When climbing tall poles, these features make all the difference:
Weather Protection
In lineman boots, solid weather protection must-have in this boot. During the working hour, a lineman may face icy sleet or snow squall weather. They may have to work in a heavy and wind-driven rainstorm.
Water cannot be run down in a lineman's boot. If the water enters into a boot, the socks become wet and slippery. So the stability of the feet inside the boot is compromised.
From the inside out, the boot must keep the feet dry, and in control is essential. So lineman must wear official lineman boots. The design of these boots is extra tall and lace-up over the calves. For that, it creates a snug and provides a protective fit. The structure and support of these boots help to keep the feet dry and warm.
Electrical Protection
A lineman has to climb electrical poles. Most of their work is around high voltage lines. So protection against electrical shock is mandatory.
During a shock, shoes play a vital role in the outcome. Against electrical shock, rubber shoes are one the best line of defense. Rubber works as an insulator. So while choosing a lineman boot, you should prefer a boot with a thick rubber sole. Between your body and ground, rubber is an effective barrier.
Large pieces of exposed metal are avoidable for this task. Metal is used on the toe cap, puncture plates, metatarsal guards and heel shafts which are great for other professions. But for a lineman, the rubber must surround these metals to prevent any inconvenience.
Waterproofing
Some boots provide a built-in Internal Waterproofing System with a moisture-wick lining. To keep you healthy and protect from bad weather, these boots are great.
If the power lines in a high risk of damage, lineman must do their job in that terrible situation. Sometimes you have to climb poles in heavy rain. And after the job is done, thick mud is waiting for you to tread.
If the sock is wet, it not only makes the feet uncomfortable but also grows bacteria. Water leaks also lead to hypothermia in cold environments. Waterproofing system ensures that nothing makes contact with your feet.
For this reason, high-quality boots are designed with a waterproofing system.
Safety Toe Protection
Lineman should prefer those who wear boots for footwear protection that has the ASTM Safety Standards.
Climbing poles is a hazardous job and having solid toe protection is important for the worker. ASTM Safety Standards meeting safety shoes provide protection of feet from the collision or impact if heavy equipment rollover the feet or fell from high ground.
At present linemen use those work boots that have safety toe caps. These are made from modern lightweight alternatives. It is like those boots that meet ASTM Safety Standards. Aluminum, alloy, or non-metallic composite is used in this choice.
Some also find traditional Steel toe boots are more alluring. But modern alternatives are lighter than this. Moreover, it takes more space in the box. Also, it has an impact of heat and cold from outdoor temperature.
One thing you should bear in mind that if the boot protects you from high impact, the strength is compromised. Even if you don't see any dents in the toe after that unlikely thing, you must replace your boot.
Solid Outsoles
You have to choose the right outsole for your boot. It is an important feature for lineman boots. On a utility pole, the rungs are slippery, small and most importantly, dangerous. The outsoles of a boot help you to become more stable while climbing.
The thinner sole is more flexible than the thicker sole. You can feel your feet while climbing the pole. But there are some bad effects of this type of sole. If you have to stand on pole rung for a long time, it makes your feet uncomfortable.
On the other hand, thicker soles are more protective in the strong air. This is designed to work for a long time on a pole.
But it becomes slippery while raining which is the scandalous side of these types of boots. When weather changes, it creates a problematic situation as the rungs of a pool are made out of unwrinkled metal.
You have to choose the soles by paying attention to the bottom of the soles. The boot should provide anti-slip soles so that it can give you much grip while climbing and make you safe.
Shank Protection
To avoid discomfort and extreme pain, you have to choose the work boots having a strong shank.
If you work for a long time on a ladder wearing soft-soled boots, you may feel discomfort on your feet. And this pain gradually affects your legs and then your back. It is because the full body weight is placing pressure downwards on sensitive arches.
Linemen have to work for a long time on a utility pole. So this boot is designed with Lineman Shank Plates which is stronger than regular boots. Under the arch sections of the boot, shank plates are placed.
The shank must be wider and give more support than standard work boots. The body weight can express the pressure on wider shanks more. For that, you may feel low pressure on your arches. It also helps you to become more stable on a rung while climbing.
Thick Heels
Higher heels help your boot to become more anti-slip. Sometimes, you feel uncomfortable with heels on the ground. But heel helps you to have more grips and become stable on a utility pole.
There is a dip on the arch of the foot on thick heels. While climbing hooks and ladder, this small dip helps you. When you are working on high ground like 30-40 feet in the air, it helps you to make your perfect footing.
Cost Versus Quality
You can experience major differences between expensive and inexpensive boots.
Lower quality boots provide less durability and poor fit. It makes you uncomfortable while working in a long duration. Moreover, the longevity of lower quality boots is less than high-quality boots. You may need to replace it after using it for some days or within a month.
On the other hand, quality boots ensure more durability and longevity. They are designed to keep a lineman fit for work. You can also repair it more than once if something happens to your boot.
How To Take Care Of Your Boots So They Last Longer?
If your boot is repeatedly exposed to dying mud, it will be ruined fast. Also, heavy sunlight and rain make a major effect on your boot and ruined it pretty fast too.
Firstly you must always take your boots inside and wash them off properly. Look for mud carefully and wash them by water.
Then you can dry the boots using a hairdryer. But be careful not to use the dryer close to the boots. Make sure to have a minimum distance between them. You can also dry them by using a towel or placing them next to a stove or heater.
After making sure the boot is fully dried, use boot wax to wax them. I prefer the Beeswax. It helps your boots re-oil properly. It also makes the boot shiny and waterproof. It also fights against bacteria, fungus, and mold. Most importantly, it strengthens the longevity of the leather.
You should be careful not to use any detergent or bleach and don't use the washing machine for washing.
How to Increase The Comfort of Your Boots with These Tips?
Most of the temperature of the body is released by the head and feet. So in a cold climate, you must keep your head and feet dry and warm if you don't want to catch a cold or flu.
If you want to keep yourself fit and healthy in such a climate, you should protect your immunity system from dropping down.
To work in cold weather with these boots, you must buy insulated and thermal socks. These socks are heat trapping and help your feet to keep warm and dry.
You can also use Pain Relief Insoles to fill up the space of wide or big boots. It makes the boot more comfortable to wear.
How to Break Your Boots In Faster & Get Maximum Comfort?
High quality and durable boots require much time to be broken. But you may be uncomfortable working for a long time with a broken boot.
So I can give you a tip about breaking boots quickly. You can use Fiebing's Golden Mink Oil on a regular basis.
Always use the oil before and after your work. But make sure your boot is clean and dry.
This oil helps your boot to break faster and strengthens the durability of your boots. It also helps them to dry out and increase the waterproofing system.
How to Properly Lace Your Boots for the Most Comfort & Support?
It is uncomfortable to put the string through the hole from the inside. So, you like to put the string through the hole from the outside.
It fits your legs tightening the boots properly and supports your feet and legs more if you lace the string from the outside to inside.
On the other hand, lacing the string from inside to outside makes it sloppy and doesn't provide absolute support and comfort.
What are the Advantages of Handmade Line Boots?
The quality of your boots depends on the money that you want to cost for that boot. If you want to pay $10-$20 for a boot, it will not give you the proper feedback. It makes you discomfort and your feet and back don't feel well after a few weeks.
There are some advantages of using handmade line boots that you must consider while choosing a work boot.
– These boots provide comfort to your feet.
– To prevent injury and keep the fit safe from unpleasant events, soles and steel toe helps.
– These boots have a waterproofing system. It helps to keep your feet dry and warm in rainy weather and make sure to keep you fit and healthy.
– High-quality boot ensures the safety and prevents you from many physical problems. You may suffer from shin splints and tendonitis. The aligned vertebrae may improper and knee may replace. As a result, you may face severe pain and lose working time. A good pair of lineman shoes help you from all these events.
Attributes that Differentiate One Line Boot from Another
Major differences that top quality line boots provide are:
– There are some boots that are made for a specific environment like colder climates and others don't provide this
– A major difference is in the weight. It varies according to the amount of using steel to support the sole and toes. –
– The weight has a major impact on your job.
– Lastly, some boots are designed their sole lighter. Lighter soles help to carry the materials on the ground. And some soles are designed to climb ladders and poles that have steel rung. You have to choose the boots that fit your working types.
Final Thoughts
So, that's how you can find the best lineman boots for any weather. If you pick the right one, they will last years and give you great support.