Shoes are often considered a fashion statement. And when that statement comes packed with a rich bit of history, it's even better. Crepe sole boots were the footwear of choice of the British army during the Second World War. And still to this day, they are a practical choice for casual use.
But what is so special about crepe soles? And even if you do decide to buy one, which one do you get?
That is where we come in. In this article, we will give you a quick rundown of some of the best crepe sole boots out there that you can choose as your next ideal footwear.
What Is Crepe Sole?
Simply put, crepe is a form of rubber. To make crepe rubber, manufacturers take natural rubber from rubber trees and add acid to it to convert them into a type of latex. The latex is then passed through rollers to turn them into thin sheets. After air drying, this sheet can be used in creating shoe soles.
Crepe rubber is an eco-friendly, natural alternative to latex soles. And since you do not have to destroy the rubber tree to extract the sap required to make the sole, it is also cheaper to make. Typically, crepe soles are soft, flexible, and extremely lightweight making them a comfortable choice for shoe soles.
Top 9 Best Crepe Sole Boots Reviews
If you are on the market for crepe sole work boots or casual shoes, then the following list of our handpicked products should make it easy for you.
1. Clarks Desert Boots Crepe Sole
There are very few other brands out there that can match the style and quality of shoes that Clarks has to offer. The Original Men's Desert Boot is a great choice if you are looking for a comfortable shoe that you can wear every day.
This pair comes with a very simple yet stylish look that is suitable for casual wear. You get multiple color and size options, so there is a good chance that you will find something that suits your taste.
The distance between the shaft and the arc is around four inches and the heel stands at around 1 inch. For people who need good arch support from their shoes, it will not disappoint.
One slight drawback with the unit is its four-lace interlocking system, which although effective, is not universally loved. Some might prefer more lace holes to lace higher and provide a stronger grip on their feet.
Pros
Multiple color options and size available
Provides good arch support
Decent grip and traction
Cons
---
2. Red Wing Crepe Sole Boots – Heritage Men's Moc 6″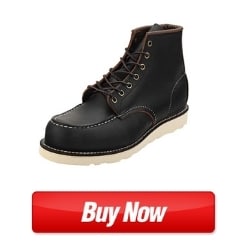 Red Wing boots are a bit pricier than most other brands out there, but when it comes to quality consistency, they rarely fall short of expectations. Naturally, when it comes to men's crepe sole boots, we cannot ignore the Heritage Men's MOC.
It boasts a timeless style with unprecedented durability to go with it. The set comes with different color options, but personally, we went with the black crepe sole boots because of how sleek it looks.
The shaft of the shoe measures around 5 and a half inches which promises excellent arch support and the 1-inch heel provides a good level of comfort. Thanks to the lace-up vamp design, you will be able to get the perfect fit and grip on your foot.
Since the upper is made of leather, while the toe area features contrast-stitched moccasin, you should have nothing to worry about when it comes to durability. This is one pair of footwear, that will last you a good long while.
Pros
Extremely durable design
Lace-up vamp style lacing
Moisture-wicking leather upper
Cons
---
3. Crepe Sole Square Toe Boots – Smoky Mountain Kids
Want to dress up your kids as a cowboy? Well, look no further than the Smoky Mountain Kids square toe boots. Though it looks quite rough and tough, it is actually quite comfortable to wear.
The color of this boot is called Brown Oil distreses by the manufactures. It features a unique texture on the ankle that immediately catches the eye. In addition, the yellow stitching on the edges further enhances its looks.
With the embroidered pull holes, your child can easily pull it up or take it off when needed. The crepe sole on the bottom offers excellent grip and wearing comfort, which is a must since once he puts it on, you will have a hard time taking it off.
Thanks to the leather construction of the boot, durability is not an issue with it. The square toe design will give the foot plenty of breathing space once worn. This crepe sole western boot can be a real treat to your little one.
Pros
Durable leather construction
Comfortable to wear
Looks quite attractive
Cons
The sole may not survive rough use
---
4. Crepe Sole Chukka Boots – Amali Original
For our next option, we will be going with an affordable brand that makes excellent casual shoes for everyday wear. The crepe shoes by Amali Original are a great option if you want something on the cheaper side without giving up too much on comfort and quality.
You get to choose between seven dazzling colors when going with this model each featuring timeless design and class. For those with a simple taste, the tan and the black color option seem perfect, but there are brighter color options for others too.
The premium Suede faux-leather upper of the shoe ensures unparalleled comfort when wearing it. Combined with the crepe sole, you can wear this pair of shoes the whole day without any discomfort.
To further minimize fatigue, the interior of the shoe is lined with soft padding while the four-lace system goes well with the sleek design. For the price, this pair offers an excellent value.
Pros
Premium faux-leather upper
Suitable for wearing the whole day
It comes at an affordable price
Cons
---
5. Ariat Crepe Sole Boots – Heritage Western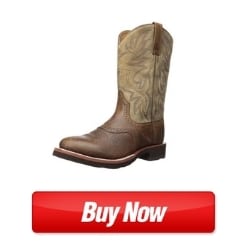 Earlier, we showcased a western boot for kids. This time we will be looking at men's crepe sole western boots by the brand Ariat. Featuring a vintage design and a classic look, this pair of boots is a real treat for the eyes.
With 16 inches of the shaft from arch measurement, you will have excellent support minimizing fatigue. The opening of the boot measures around 15 inches which makes it easy for you to wear it.
Apart from the crepe rubber sole, the rest of the boot uses leather as the primary material. It comes with minimal embroidery that fully complements the vintage cowboy look that it tries to convey.
The boot comes in three different color options, each of which is better than the next. It is comfortable enough for you to wear every single day without worrying about its durability.
Pros
Vintage design and looks
Excellent support for your leg
Beautiful yet minimalistic embroidery
Cons
---
6. Crepe Sole Boots Women's – ECCO Bootie Ankle Boot
This time, we will avert our attention towards the needs of the fairer sex. For women, there are not many options out there that can fully capture their powerful essence. However, you will find that the ECCO Bootie Ankle Boot is quite capable of the job.
Four color options are all you need when each of them can go with just about any outfit you own. Since matching is important, the manufacturers made sure to go with color combinations that can suit different wardrobe options.
This is an ankle-high boot that provides good support to the arch. The interior of the shoe is soft and flexible. As a result, you will not feel fatigued even if you wear it throughout the day.
The sole in the unit features a pebbled full-grain crepe ensuring the best grip and traction for better stability. Despite featuring such excellent quality, the unit is quite reasonably priced.
Pros
Soft, flexible, and lightweight
Removable leather inlay
Excellent arch support
Cons
---
7. Crepe Sole Cowboy Boots – Smoky Mountain
We have already reviewed another crepe sole western boot earlier on this list by the brand Smoky Mountain. Since that one was exclusively for kids, let us take a look at another one more suited for teenagers and youths in general.
This pair of boots feature a slightly larger opening to ensure easy access whenever you need it. Although this does pose some fitting concerns, it also makes the unit quite a bit more comfortable to wear.
The textured leather upper on the unit not only is durable but also feels great on the hand. Thanks to the crepe rubber outsole and the round toe of the boots, you will not feel the fatigue of the day in the slightest while wearing it.
True to their brand, this unit also comes at a reasonable price despite featuring good build quality. This pair of shoes is one investment that will last you quite a while if you are a fan of cowboy boots.
Pros
Genuine leather upper
Durable sole
Comfortable round toe shape
Cons
The opening is a bit large
---
8. Crepe Sole Chelsea Boots – JIONS Slip-On Suede Chelsea Boots Men
Slip-on shoes have been a thing for quite a while now. However, getting a good quality slip-on can be a bit of a challenge. This unit by the brand JIONS can be just the thing if you want a long-lasting and durable one for yourself.
Every aspect of this shoe is designed to cater to your comfort. The unit is made with cowhide grain leather that offers a good blend of durability and comfort. It is also extremely breathable ensuring you have proper ventilation inside the shoe.
Not only is the upper material of the shoe soft, but also the rubber outsole. As a result, you will be able to tread without constraints and fatigue. The shock-absorbing properties of the shoe are a godsend.
It is a simple pair of the shoe meant to be worn casually. The cost is quite reasonable and the quality for the price is phenomenal. And the lace-free design means you can just slip it on and be on your way without any hassle.
Pros
Lace-free, slip-on design
Cowhide leather construction
A simple and affordable option
Cons
---
9. Lucchese Crepe Sole Boots – Men's Cliff Full Quill Ostrich Square Toe
If you are one to show no compromise when it comes to quality, then you should take a look at this exquisite option by the brand Lucchese. The only reason we saved it for the last spot is its extremely high price. But to be honest, you cannot put a price on quality.
It is a western-style boot at its core featuring genuine leather construction. The full quill ostrich vamp upper along with the stained finish gives it an extremely elegant and classy look.
Combined with the soft crepe outsole, every tread will feel as light as a feather. It features a pull-on pantry design eliminating any hassle of lacing up your shoe. As long as you buy the right size, it should fit perfectly.
No other shoes on this list can capture the true essence of a cowboy as much as this one. Sure, it comes at a way higher price than the other options on this list. But if you want a pair that lasts you a lifetime, it does not get better than this.
Pros
Extremely durable construction
Comfortable to wear
Classy and stylish design
Cons
Too expensive for some people
---
How To Choose A Crepe Sole Boot?
Choosing a crepe sole boot is not all that different from choosing a regular leather or synthetic rubber sole shoe. You need to focus on the basic elements like size, fit, and breathability as usual. But there are a few small details you need to check to make sure you are going with a good unit.
Make Sure You Are Buying An Original Crepe Sole Boot
For instance, there are many brands out there that advertise their soles as crepe but in fact, those are synthetic rubbers. This is more common with knock-off brands, however. So, if you are going with a reputed manufacturer, this should not happen to you.
You Want It To Be Washable
Since crepe soles get dirty easily, you also should think of getting a shoe that is easy to wash. Although some people prefer the natural fading that comes with crepe soles, some people do hate it. If your shoe can be washed easily, you can prevent that dirty look to some extent. You can get some tips here on how to clean crepe soles easily.
Comfort Is Extremely Important
Remember, the main strength of crepe soles are their softness, flexibility, and lightweight nature. So, comfort should be your primary concern when buying crepe shoes. Since these boots are less durable when compared with leather or another type of sole, you should focus mostly on the comfort you can get out of them.
Crepe sole boots are a classic choice for everyday footwear. So, you should make sure you get a unit that provides good support and minimizes fatigue. As long as you focus on these few aspects, you should be able to snag up a good-quality crepe sole boot for yourself without too much trouble.
Frequently Asked Questions
1. Are crepe soles good?
If you are looking for a comfortable pair of shoes, then yes, crepe soles are a good choice. Since they are soft, lightweight, and quite flexible, they offer excellent cushioning for your feet.
2. Can you resole crepe soles?
Yes, you can resole crepe soles. However, it is a bit more challenging compared to leather or synthetic soles.
3. Are crepe soles good for snow?
Although crepe rubber has decent traction in dry weather, they do get slippery when wet. So, it might not be ideal to wear crepe sole boots in the rainy weather or snow.
4. Is crepe rubber biodegradable?
Yes, crepe rubber is completely biodegradable which makes it much more sustainable than synthetic rubber. It presents no harm to the environment whatsoever. Since it is biodegradable, you will not be adding to the problem of pollution doing your part to keep the environment clean.
5. What material is crepe sole?
Crepe is a type of natural rubber. The material used to make this sole is rubber from a natural rubber tree. It is eco-friendly and soles made using crepe rubber are quite lightweight and low-profile. The process of extracting the sap from the rubber tree is known as sap tapping.
Final Thoughts
Everybody loves a comfortable pair of shoes. And the softness and flexibility that you get from crepe soles make it a great choice for just about anyone.
With the right pair, every tread you take will feel as light as a feather. We hope our article on the best crepe sole boots could help you figure out which pair you want for yourself.